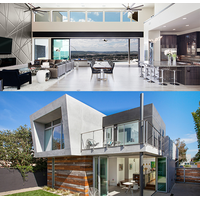 FOR IMMEDIATE RELEASE
2018 BEST OF LaCANTINA ARCHIITECTS COMPETITION OFFICIALY OPENS FOR SUBMISSION
Company accepting entries through August 24th for its 2nd annual architects design competition
San Diego, CA – (June 15, 2018) –LaCantina Doors (LaCantina) has teamed up with Interior Design in a nationwide search for amazing architects and designers whose work represents the Best of LaCantina. The companies invite all architects and designers to share their work with colleagues and peers around the world in the second annual 2018 Best of LaCantina. The design competition recognizes architectural excellence, creativity and innovation for the best use of LaCantina's lifestyle changing open space products and solutions. For more than 85 years Interior Design has been the leading curator, innovator and influencer in the design industry and is the most trusted global resource for design professionals.
Open to residential and commercial architects, interior designers and interior architects, home builders and developers, the competition aims to showcase the best of contemporary design and celebrate the distinctive ways designers have used LaCantina's products in their projects. Entries must be submittedHYPERLINK "http://www.interiordesign.net/lacantina/submit/" online by August 24, 2018 to be eligible.
LaCantina is the leading designer and manufacturer of the most innovative range of folding, sliding and swing door systems available. The company's high-quality and aesthetically versatile products allow designers to elegantly blur the division between indoor and outdoor, completely transforming and creating large open living and entertaining spaces.
"The world has adopted an indoor-outdoor lifestyle and the design solutions created by the architects and designers using LaCantina products keeps getting more innovative." states Lee Maughan, Vice President and General Manager of LaCantina. "We're excited to see what the competition will look like this year and to provide a platform that recognizes their inspired projects."
The grand prize is a three-day, two-night trip for two to New York City to explore and celebrate the vibrant architecture and design scene the city has to offer during AIANY's annual Archtober event, a festival of architectural activities, programs, and exhibits taking place in October 2018.
LaCantina will announce the winners on September 14, 2018 and proudly feature the winning projects on LaCantinaDoors.com, InteriorDesign.net and shared on Interior Design's Facebook page with 4,600,000+ social media followers, the industry's largest and most designer-centric network.
Winners will be selected by an expert panel of judges including Christopher Kennedy, renowned interior designer; an editor from Interior Design and Lee Maughan, VP and General Manager, LaCantina.
To learn more about the 2018 Best of LaCantina architect's competition, please visit:
www.lacantinadoors.com/professionals/architects-and-designers/best-of-lacantina
About LaCantina Doors
LaCantina Doors is the leader in designing and manufacturing products that create large open spaces. Offering the most innovative and comprehensive range of folding, sliding and swing systems available, LaCantina Doors utilizes the same signature narrow stile and rail profile across its product line for a complete and perfectly matching door package.
Designed and made in California, LaCantina Doors have contributed to award winning projects ranging from residential, retail, commercial, educational facilities, resorts and is the preferred choice when it comes to products that open spaces. Backed by an industry leading warranty, LaCantina Doors are available across the U.S. and Internationally.
LaCantina Doors was acquired by Jeld Wen in 2015.
For more information on LaCantina Doors please visit www.lacantinadoors.com.
About Interior Design
Interior Design Media is the global, industry-leading design publication, website and events company serving the interior design, architectural and facility management audiences. For over 80 years, Interior Design magazine—published by SANDOW, which builds smart businesses driven by innovation and design—has been the essential design authority for every professional, on all projects, throughout the design process. Interior Design Events connects the industry, promoting creative leadership, innovation and collaboration across a wide range of practice areas and platforms. Interior Design's digital companion, interiordesign.net, is the go-to site for relevant and real-time content for the industry's largest and most engaged design audience.
For more information about Interior Design, visit www.interiordesign.com.
# # #
Business Inquiries Contact: sales@lacantinadoors.com (888) 221-0141
Media Contact: Benjamin Woo, LaCantina Doors Marketing Director benjaminw@lacantinadoors.com (760) 547-8612
---