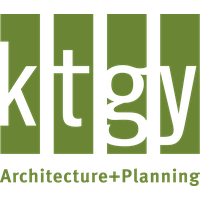 FOR IMMEDIATE RELEASE:

Contact:
Anne Monaghan
Monaghan Communications
830.997.0963
IRVINE, Calif. – International award-winning firm KTGY Architecture + Planning is pleased to announce that KTGY's design and planning were honored at the American Institute of Architects Orange County Chapter (AIAOC) 2017 Design Awards last night. The AIAOC Design Awards program recognizes innovative solutions to the complex problems of today's architectural environment in Orange County or by Orange County architects. KTGY's Park House received AIAOC Design Awards program's INSPIRE award and Oakwood Olympic & Olive in Downtown Los Angeles received the highest award in the Residential Planned Development category, the Honor Award.

"It is exciting, and a great honor, to be recognized for excellence in innovation, design and planning by our peers in the AIA," said KTGY Principal David Senden. "Park House, which was designed by our R+D Studio, is a viable housing solution that not only repurposes under-utilized parking garages for much-needed housing, but does so by using repurposed shipping containers that can simply be 'plugged in' to maximize efficiency and minimize the disruption to the existing context."

The Park House design has two unit types, a one-bedroom unit comprised of three shipping containers, and a two-bedroom unit comprised of three containers with a prefabricated extension. For example, using a parking structure that once provided 1,091 parking stalls, Park House now proposes a 119-unit residential building with a density of 79.87 dwelling units per acre. "With some modifications to the existing structure, the original utilitarian structure transforms into a building that's hardly recognizable as its past function," noted Senden.

"KTGY's R+D Studio will continue to develop new housing solutions for the future," said Senden. "Park House is one possible solution for what will certainly be a paradigm shift in car culture in the United States."

The other award winner, Oakwood Olympic & Olive, was designed for easy accessibility to the surrounding downtown Los Angeles, and to attract short- and long-term tech, media and entertainment business travelers in Los Angeles, among others, Senden noted. "We wanted to make the most of this compact urban infill site in Downtown Los Angeles' South Park neighborhood and bring together the latest amenities, hotel-like services and design benefitting its location in Downtown LA's desirable South Park neighborhood." KTGY's Irvine office designed Oakwood Olympic & Olive for Lennar Multifamily Communities.
Named for its location at the southwest corner of Olympic Boulevard and Olive Street, Oakwood Oakwood Olympic & Olive stands out for its modern design, bold color scheme and artfully placed decks that maximize views. The building's iconic Olympic & Olive sign on the seventh-floor roof deck is reminiscent of the landmark roof-top signs like those at the Rosslyn Hotel. Before it opened as for-rent residential, Oakwood Olympic & Olive caught the eye of Oakwood Worldwide. The global leader in corporate housing was looking for a flagship location to launch an upscale extended-stay destination appealing to a new class of executives who demand an extremely high-quality environment for project work in Los Angeles. Oakwood Worldwide, under the parent company, Singapore-based Mapletree Investments, acquired the development earlier this year.

The AIAOC Design Awards were presented at the chapter's signature event on the evening of September 14, 2017, at the Cultural Center of the Christ Cathedral Parish in Garden Grove, Calif., designed by world-renowned architect Richard Meier. The American Institute of Architects (AIA) is an international organization with chapters worldwide. The AIAOC is the 3rd largest chapter of the AIA in California.

About the American Institute of Architects
Founded in 1857, members of the American Institute of Architects consistently work to create more valuable, healthy, secure, and sustainable buildings, neighborhoods, and communities. Through nearly 300 state and local chapters, the AIA advocates for public policies that promote economic vitality and public well being. Members adhere to a code of ethics and conduct to ensure the highest professional standards. The AIA provides members with tools and resources to assist them in their careers and business as well as engaging civic and government leaders, and the public to find solutions to pressing issues facing our communities, institutions, nation, and the world. For more information visit http://aiaorangecounty.org.

About KTGY Architecture + Planning
Celebrating 25 years, KTGY Architecture + Planning is an international award-winning full-service architecture and planning firm delivering innovation, artistry and attention to detail across multiple offices and studios, ensuring that clients and communities get the best the firm has to offer no matter the building type or location. KTGY's architects and planners combine big picture opportunities, leading-edge sustainable practices and impeccable design standards to help create developments of enduring value. KTGY serves clients worldwide from offices located in Chicago, Denver, Irvine, Los Angeles, Oakland, Pune and Tysons. Call 888.456.KTGY or visit www.ktgy.com, Facebook, Twitter, LinkedIn, Instagram, Vimeo, YouTube
---